Articles
Mozart music helps improve epilepsy in children: study
http://focustaiwan.tw/ShowNews/WebNews_Detail.aspx?Type=aALL&ID=201012020036
Date: 2010/12/02
By Hsia Nien-tse and S.C. Chang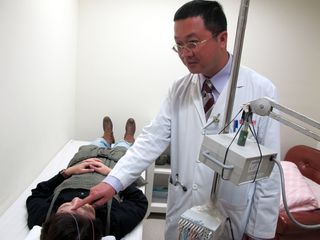 Kaohsiung, Dec. 2 (CNA) Listening to Mozart's piano concertos foreight minutes a day can reduce the frequency of seizures in youngepilepsy patients by 30 percent, a study here shows.
The study, carried out by Kaohsiung Medical University (KMU) incollaboration with scholars at National Sun Yat-sen University'smusic department, examined the effects of Mozart's music on epilepsychildren 17 years old and under.
Lin Chang-lung, a child neurologist at KMU Hospital and a memberof the research team, said brain wave tests on 58 epilepsy patientsin the age group showed that the frequency of abnormally excitedelectrical signals in the brain dropped an average of 30 percent in47 of them, after listening to eight minutes of Mozart's pianoconcerto K448.
In a second-phase test over a longer period, it was found thatthe longer the music healing lasted, the better its healing effectson the patients.
"Six months would be the best time span for music healing, " Linsaid.
In a third-phase test, 18 patients with a high frequency ofseizures or convulsions were found to have experienced a whopping 53percent reduction in frequency after a long period of music healing,Lin said.
Yang Jui-cheng, another team member and child neurology expert atKMU Hospital, said the study found that in addition to "markedlyimproving" epilepsy in children, the music can also help to reducepatients' medication dosage and side effects.
In fact, he said, foreign studies have shown that music can helpcure Parkinson disease, dementia, strokes, sleeping disorders andattention deficiency syndrome, and has a good record of improvingpatients' quality of life.
In 1993, a medical journal reported that college students whotook an IQ test after listening to Mozart's piano concerto K448 hadscored eight or nine points higher than usual, Lin said.
Lin said his team's research will be published in "EpilepsyResearch," a well-known medical journal.